When it comes to living rooms, I find myself torn between wanting neutrals and soft pastels paired with dark wood and plants, or wanting ALL the colors and patterns imaginable. Clearly two opposite ends of the spectrum, and I think it really depends on my mood. So how exactly do we work with that? We can't have a living room that changes depending on my mood... (wouldn't that be amazing?!) Shawn is mostly drawn to color, patterns, and textures. If it were up to him we would have wood paneling, 70's floral wallpaper, and furniture that exhibits the entire color wheel. Thankfully, it's not entirely up to him!

This is a great combination of our tastes - colorful, but tasteful. (source)



Not a fan of the couch, but everything else about this room is awesome! (source)



Soft pastels and pillows exude comfort. Side note: we both love that chaise, but it's out of our current budget. (source)



Floor cushions, big rug, and a funky couch - love it! (source)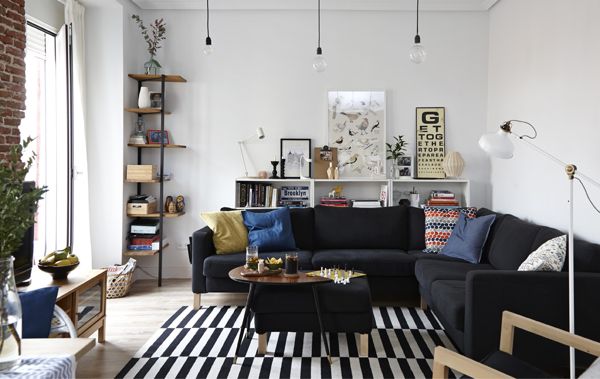 This doesn't fit into our whole bohemian theme, but I love the feel of this room. That coffee table/ottoman blend is genius! Also, can anyone tell me where we can get a shelving unit like the one in the corner?! (source)



Bold color, personality, and plants... now that we can do. (source)



More plants and pillows! I mean, seriously. (source)



Pillows, cozy rug, industrial lamp... need I say more? (no source!)



Patterned couches, rugs, a hanging egg chair.... Drea's house is ah-maze-ing! (source)
So what I'm taking away from all of these
inspiration posts
is that we really need to stock up on
pillows
and
plants
in the new apartment.... sounds easy enough! Our biggest living room struggle is that we don't have proper couch. The couch we purchased for our first apartment didn't fit up the stairs to our current apartment, so we kept the cushions and ditched the rest. We bought a kid's bed frame to stand-in as a couch base, but after two years of sitting on that, we're itching to get a real couch again! There's a decent one in my parents' basement that we can take, but we have to figure out how to get it here, and whether or not it will fit into our new apartment. I honestly think that a proper living room is built around the couch, so I guess we'll see what happens!