This is the year of DIY! Well, for me it is. At least that's what I decided back in January. Every year I tell myself I'm going to make more
stuff
, and every year I disappoint myself. At the end of last year I surprised myself and actually did complete a fair amount of sewing. I don't think I ever shared them here, but for Christmas I made my brother and sister some fun tote bags. I also sewed a few kimonos, though none that are "wearable" because I'm a perfectionist and I think the hemlines still need some work... (Any tips for sewing a curved hem? Mine are such a mess!) All of these projects were free-styled, by which I mean, I didn't use any patterns. But I know from the past that I quite like sewing with patterns, and I like the re-usability of a pattern. So I've been looking at a few lately and thinking about what sewing goals I want to set for myself this year.

Patterns: 1 | 2 | 3 | 4
I definitely want to make some pajamas. I feel like I could get so much use out of a pajama pattern! Pajamas for everyone! They seem like a relatively simple thing to sew. And I like that first pattern up there because it would prime me for making button-down shirts (which Shawn has been requesting I make him for years....) so that's pretty neat! I also love circle skirts- I have a bunch saved in my "Loved items" on ModCloth, and a few in my favorites on Etsy, but why can't I just make some myself? They're super easy to sew up, and that pattern above has a few different options - skirts for every occasion! I also really like sewing bags, since they're pretty much all straight lines. I've sewn a few messengers in the past, but again, never with a pattern, so I'd love to try something new!
As far as fabrics go, I've only thought about pajamas so far. I spent an hour or so browsing
Spoonflower
yesterday after learning about their
Sprout Patterns
line. (Which is an awesome concept, by the way - sewing enthusiasts should check it out!) Anyways, playing around on that website led me to take a look at all the fabrics they have, which reminded me that I want to make pajamas, which then made me think "Hm, I should write a post about that!"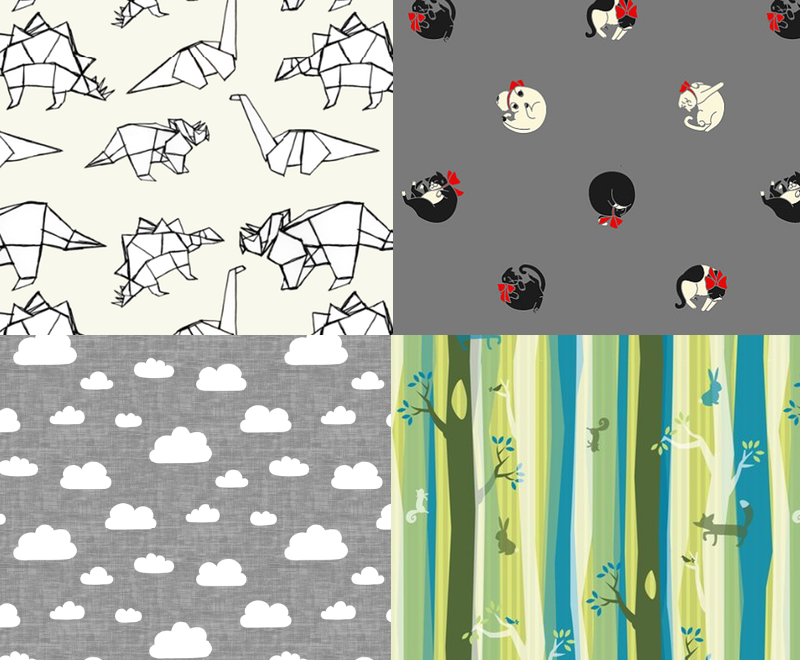 Fabric: 1 | 2 | 3 | 4
My interest in sewing pajamas actually grew out of falling in love with that polka dot cat fabric... I first spotted it on
this dress
, which is absolutely lovely, but not something that would get a lot of wear in my closet.
But that amazing print!
- I had to think of something to do with it. Pajamas seem like the most wearable option for me, and pajamas are also a spot in my closet that is particularly lacking. I've always just worn huge ratty t-shirts to bed, but the older I get, the more I want and appreciate
legit
pajamas. (As in, matching tops and bottoms in luxuriously soft fabric...) But the prettiest pairs are always so gosh-darn expensive! Then I stumbled upon the two pajama patterns above, and thus, my desire to make my own pajamas was born.
One of the first things I ever sewed was actually pajama shorts! In middle school home ec class... I picked out a soft brown fabric with horses printed all over it. (Clearly my love of animal print started early.) I'm not sure what happened to those shorts, I haven't seen them in years. But hey! I'm ready to make some more! And maybe bag and a skirt or two while I'm at it!