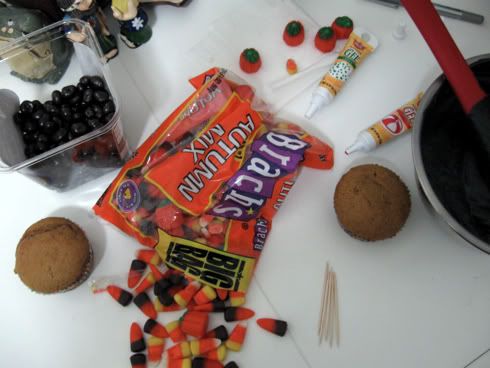 I didn't go trick or treating this year, or even dress up, but this Halloween I got to spend a few hours with my brother and sister! The three of us caught up for a bit, and then my sister and I made some cupcakes in the spirit of the holiday.
My sister was in the mood for pumpkin, so we went with
spiced pumpkin cupcakes
and got a little crazy with the designs. We picked up some candy corn, black food coloring, and white red and green food gels, and we used some dark chocolate covered raisins too.
Check it out: spider webs, a pumpkin patch, floating heads, and a pumpkin massacre! (My sister is far more creative with her cupcake design than I am...)

We thought the icing looked really cool as we were adding the food coloring!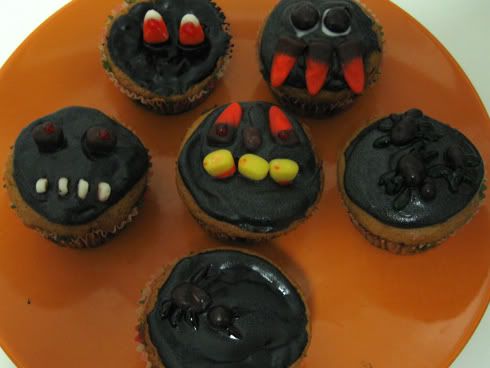 Monster cupcakes!
We actually had to make two batches of cupcakes... the first batch were under-baked by a good fifteen minutes, but I didn't realize it until we'd already let them cool (my mistake - I thought the cakes were just incredibly moist and delicate... dehhhh). So we made a second batch and baked them twice as long (I wonder if the person who wrote
the recipe we used
has a convection oven, perhaps...) - the second batch was baked all the way through and puffed up nicely. We used the first batch for practice decoration!