Albeit having a nicely sized collection of both savory and sweet cookbooks, I usually end up searching for most of my recipes online (I use my cookbooks primarily for a few staple recipes I've grown fond of over the years). I'm a huge fan of visiting
Tastespotting.com
when in search of a specific recipe or ingredient, or even for just a little inspiration on a dull day. But I have a habit of bookmarking potential recipes in my browser... and then never looking at them again. After a while, the bookmarks accumulate and I'm left with so many to go through that I lose interest in them all-together.
But not this time. No, this time, I stopped myself before it got too out of hand. I took all those bookmarks, and I made them into a list. A list of recipes I'd like to get around to making eventually...
Sweet...
Chocolate Opera Cake
Espresso Chiffon Cake w/ Fudge Frosting
S'more Cakes
This amazing Lemon Chocolate Praline Cake
Buckeye Cake
Idle Hand Bars
Glazed Doughnuts
Mocha Buttercream
Lemon Meringue Cake
Savory...
Cornmeal Parmesan Crackers
Parmesan Thyme Crackers
5-ingredient Harissa
Doughy...
English Muffins
Challah Bread
Braided Lemon Bread
Bialys
Oatmeal Sandwich Bread
Chocolate Bread
(All those breads look lovely, however, I recently bought myself a much wanted copy of
The Bread Bible
, so I think I'll be referring primarily to that for most yeast recipes from now on...)
Oh, and of course...
butter!
The best ingredient ever.
Now, here's hoping I can form a new habit and just add to this list instead of adding to my bookmarks!

So we've been a tad M-I-A for the past three or so weeks, and for that, I apologize. It's not that we haven't been busy... we've been cooking and baking plenty and Shawn's had plenty to rant about, but we've also been watching plenty of 90's movies and episodes of the X-files... so we've both been a little lazy, too. Can you blame us? I've been a little tired of the internet as of late, I must admit; so much less of my time is spent clicking away in front of the computer screen these days - apparently that's a good thing for me, but not a good thing for any of our loyal blog readers.
I really don't have a good excuse other than having shifted my focus to the
Bark Bites
website two weeks ago. If you're wondering what on earth Bark Bites is, it's my
homemade organic dog treat business
- check it out! The idea has been in the works for over a year now, and I finally got my rear-end into gear and started promoting myself. With our recent acquirement of a color printer, making labels and flyers has a been a whole lot easier, and my motivation to push forth with the business returned. No orders yet, but at least I'm getting the name out there.
Like I said though, we've been cooking and baking plenty. I'll tease you with some photos from the past few weeks, and leave you with the promise to post a few of these new recipes soon. And by soon, I mean maybe a few days instead of a few weeks this time.

I've been in a bread baking mood since autumn set in; I've made this whole wheat loaf three times now and I wouldn't change anything about the recipe - it's absolutely perfect, and I absolutely must share it with you!

I also made a cinnamon raisin loaf, and albeit being tasty, the dough was a huge pain to work with and most of my raisins ended up on the floor... I'll be tweaking this recipe.

Rice Krispie treats? How about rice krispie treats made with peanut butter and agave nectar instead of marshmallows? Mmm. Healthier and tastier!

That was a chocolate loaf cake that didn't last very long at all. Oh, indulgence.

Speaking of indulgence, have you ever had brownie pie? You're seriously missing out.

Shawn made some tasty things too! He's working on his meatloaf recipe.

We came across this pepper phenomenon one night while prepping for sausage & peppers... not just one germinated seed - every single pepper we'd bought that day had some!

We all know I'm more of a baker than a cook... but when Shawn was coming down with a cold last week I couldn't very well ask him to cook, so I made his some homemade chicken noodle soup - the ultimate cold cure! It was deeeee-licious, if I do say so myself.

We'll leave the real cooking to Shawn though - he made some awesome smoked cheesesteaks the other day when we couldn't find sausage for sausage & peppers like we originally planned.

I'll end this post on a sweet note; the other night I decided to made homemade dark chocolate peanut butter cups... enough said.
Over the next few days you can expect a few new recipe posts, and a post about other bloggers' recipes I've been wanting to try! Until then, enjoy the holiday and get lots of rest!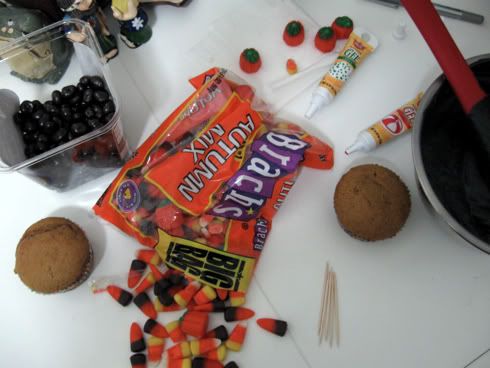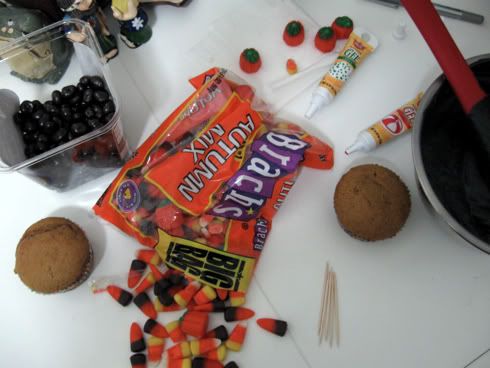 I didn't go trick or treating this year, or even dress up, but this Halloween I got to spend a few hours with my brother and sister! The three of us caught up for a bit, and then my sister and I made some cupcakes in the spirit of the holiday.
My sister was in the mood for pumpkin, so we went with
spiced pumpkin cupcakes
and got a little crazy with the designs. We picked up some candy corn, black food coloring, and white red and green food gels, and we used some dark chocolate covered raisins too.
Check it out: spider webs, a pumpkin patch, floating heads, and a pumpkin massacre! (My sister is far more creative with her cupcake design than I am...)

We thought the icing looked really cool as we were adding the food coloring!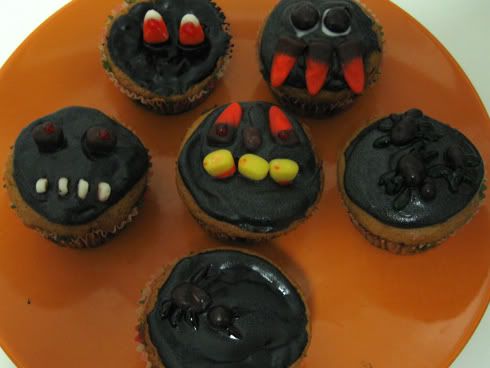 Monster cupcakes!
We actually had to make two batches of cupcakes... the first batch were under-baked by a good fifteen minutes, but I didn't realize it until we'd already let them cool (my mistake - I thought the cakes were just incredibly moist and delicate... dehhhh). So we made a second batch and baked them twice as long (I wonder if the person who wrote
the recipe we used
has a convection oven, perhaps...) - the second batch was baked all the way through and puffed up nicely. We used the first batch for practice decoration!