We've already praised
Trader Joe's
for their
cream sodas
and
chocolate
, but we love them so much we decided we needed to write a whole post about it.
Tribute to Trader Joe's
I was so happy to find out that the only ingredients in Trader Joe's brand peanut butter (only $1.79 for a 16oz jar!) are, well, just dry roasted peanuts - and nothing else! No added sugars or oils- even the name brand 'natural' peanut butters still have added sugars and oils, and they cost almost twice as much. Thank you, Trader Joe's, for keeping it natural and affordable.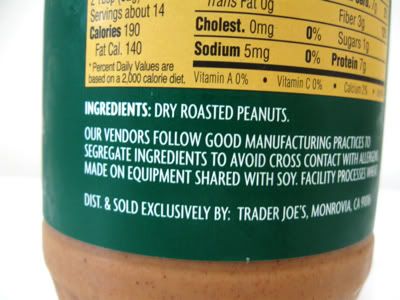 When Shawn and I moved here from New Jersey we thought the prices everywhere were already a lot cheaper than what we were used to. We thought people were crazy when they said the local grocery stores were expensive! (eastern PA's Acme and Genuardi's equate to NJ's ShopRite and A&P - in terms of product and service...) But after a few months, we discovered Trader Joe's and everything was really put into perspective.
We had no set grocery store prior to Trader Joe's. We would go to Acme for bread, canned or frozen veggies and assorted toiletries, and we'd frequent the local farmer's market for fresh fruit, veggies, fish and meat, and we bought our milk and snacks from the local Wawa because that's where they were cheapest.
I really discovered Trader Joe's through work because I go there often for extra baking supplies. It was easy to ease in to the Trader Joe's mentality that way - the store is on the smaller side so once you become acquainted with the six or seven short aisles and the contents of their shelves, it's much easier to migrate the masses of customers that always seem to swarm to the exact item you're reaching for. Things are organized pretty logically and they have a small selection that's large enough to give you a choice but small enough not to overwhelm you, and they're constantly showcasing new products.
What really got me though, is their Fearless Flyer. The old-timey cartoons are hilarious, and the entire flyer is an amusing yet informative read. I love that they take the time to let you know what's going on on their end and what changes they may have made to certain products. It also can't go without saying that at every single Trader Joe's I have ever been to, the staff have always been incredibly friendly and helpful, and entertaining too! The atmosphere is so light, and compared to most other grocery stores around here, you feel like the staff actually wants to be there, and they enjoy having you there too.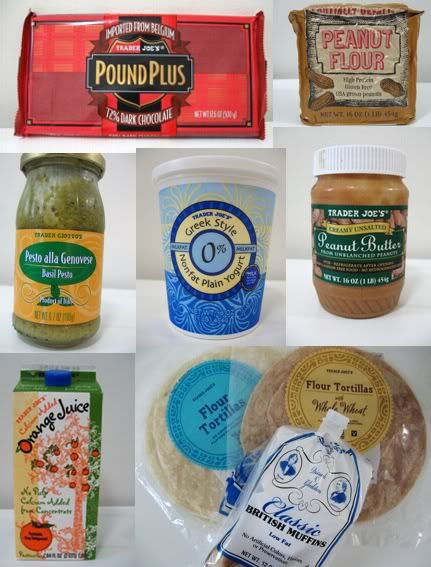 You can't argue with quality product for good prices; let me give you the breakdown:
1lb heirloom tomatoes - $3.49
2lb bag of yellow onions - $1.79
3-bell pepper pack combo of red, yellow, orange - $3.79
1/2 a dozen english muffins - $1.49
2lb bag of tortilla chips - $3.49
16oz chunky medium salsa - $2.29
17oz chocolate bar - $4.99
a little over 1lb natural ground beef - $5.04
1 1/2lb natural chicken breast - $5.84
1/2 gallon nonfat milk - $1.69 (10 cents cheaper than Wawa!)
1lb unsalted butter - $2.99
dozen large brown cage-free eggs - $2.49
Those are some of the things we buy on a fairly regular basis, so our total cost comes out to around $50 each trip, and we go about once a week or so. That seems like a lot of money to spend on groceries, but we mostly cook dinner at home and rarely eat out, so that's actually most of our food cost for the week. And we're walking home with a lot more tasty mostly natural goodness in our paper bags for $50 than we would anywhere else.
peanut flour - $3.49
Another thing I love is that Trader Joe's always a few interesting products you won't find at other supermarkets: this month, for example, they've been show casing pumpkin butter and these bags of peanut flour. I've passed it by a few times, curious, but not sure what I would do with it if I bought it. Then, the other day, tired of just passing it by I decided to buy a bag. It's vacuum sealed and I haven't opened it yet but if it's anything like almond flour I can use it for cookie recipes and the like. Do you have any suggestions on what I should do with peanut flour? Trader Joe's suggests coating meat or fish with it, or using it to thicken soup, or for baking purposes. I like all of those ideas!
Thank you for being awesome, Trader Joe's!!!