Boys will be boys. Shawn's friend Justin came to visit today and they did some recording, then they played a few rounds of Halo 3 while munching on candies before heading over to their other friend's apartment to hang out for a few hours.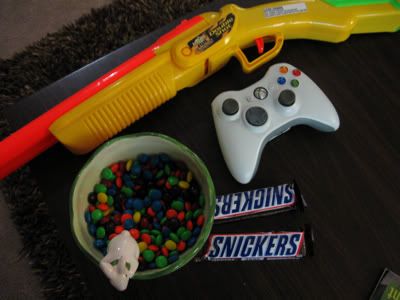 I can honestly say this is the first time I've had the apartment to myself for such an extended amount of time since we've moved in; since Shawn is still looking for a job he's always home before and after I get back from work, so we don't spend much time apart. It might seem strange to other people, but we actually enjoy each others' company, and we can spend time together without getting on each others' nerves! But I must admit, it is nice to have the whole place to myself for a few hours. But only for a few hours. After a while, it just feels empty and strange, and I don't know what to do with myself. I baked off some chocolate chip cookies, but I have no one to share them with.
Speaking of cookies, it's about time I show you guys my little trick! Every time I make cookies, I always have extra dough left over that I ball up and save for another day. Our friend Christine works at a restaurant and gave us a handful of handy plastic take-out containers that we use for food storage; they are perfect for cookies and most other things. Saving extra cookie dough like this allows me to easily bake off just a few cookies at a time days later - for that same fresh baked cookie taste but without the fuss of having to make the dough from scratch.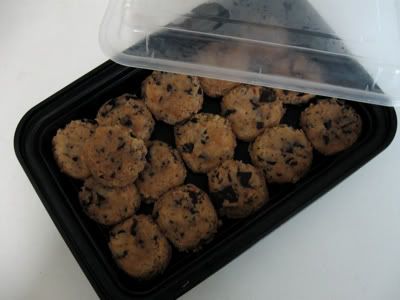 I also made some more dog treats before baking off cookies. I've been tooling around with my recipes to see if I can make them even healthier, and this was a successful attempt! I have three different types of treats to offer right now: peanut butter treats, pumpkin treats, and carrot, corn & oat treats. I'm working on a molasses cookie for my next type of treat.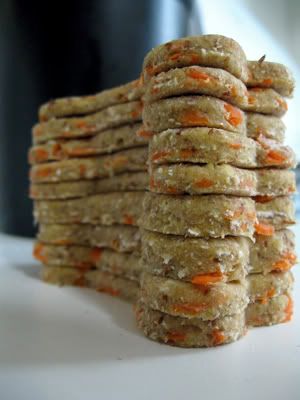 Having guests over is always a good excuse to clean/organize! We cleaned up the apartment this morning in preparation for Justin's arrival - I did the dishes while Shawn vacuumed, we put away out summer shoes and hung some things we'd been meaning to put up on the walls - everything looked so neat afterwards! We're definitely not messy people, but it's always nice to walk into a completely uncluttered space. Here's a peek at our bedroom!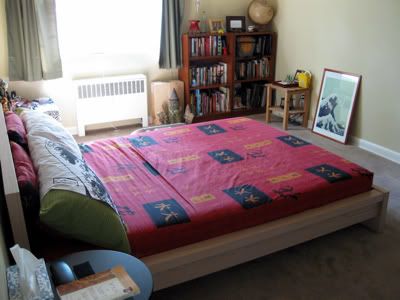 After all that cleaning, I made myself some tasty pesto tomato penne pasta for lunch; no photos of that but I did get a shot of Shawn's italian sub. There's an awesome pizza shop about a five minute walk from our apartment; they make delicious pizzas, and even tastier subs. Fresh veggies on top every single time.
So that was our Monday! Now Shawn's back home and we're munching on munchos and cheese puffs and watching
Dancing With the Stars
, which I must admit is surprisingly entertaining. A nice relaxing evening after a rather busy day. I'm not sure what's in store for tomorrow, other than the huge load of laundry that needs to be done!