Today I'm going to share one of the best recipes in the world with you! Ok, perhaps that's a bit of a stretch, but chocolate chip cookies are pretty damn appreciated in this world and I cherish this recipe greatly. It took years of recipe tweaking but I finally found
THE
chocolate chip cookie recipe. This dough makes a fantastic base for other types of cookies too - it's easily tweak-able! I've made coconut cookies, peanut butter cookies, and oatmeal cookies from this same base. But the chocolate chip cookie is still my favorite.
But before I show you how to make cookies - I'm going to talk up some chocolate!
When it comes to chocolate,
Trader Joe's
Pound Plus bars are my favorite! They're only $4.99 for 17.6 oz of Belgian chocolate goodness! The semi-sweet bars are perfect for brownies or recipes where chocolate is the prominent ingredient, and the dark chocolate bars are what I chop up for cookies. Personally, I prefer fresh chocolate chunks over bagged waxy chocolate chips any day! If you're lucky enough to have a Trader Joe's near you, go buy some chocolate now!!!
Ok, time for some cookies. How do you get this....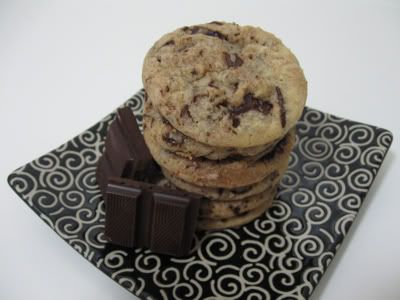 ... from stuff like this?
I'll show you!


Mix mix mix. If you're lucky enough to have a mixer in your kitchen, then use the paddle attachment on that. Otherwise, make sure to build up some strong muscles! Working in a pastry kitchen for almost two years helped me become a strong whisker - but if you don't have that luxury either, then just do what I do and let your butter soften up a bit before attacking it with your spatula.
Before and after baking shots! If you make cookies fairly often, I recommend getting yourself a cookie scoop, it makes the bowl-to-sheet pan process a little easier, and you get uniform cookies every time! You can usually find them for a decent price at places like
Home Goods
; that's where I got mine. I usually bake off about a dozen cookies at a time and scoop up the rest into an airtight container that can sit in the fridge until the next time you want cookies. Which, in our house, is almost a daily practice...
Chocolate Chip Cookies


ingredients:
1/2 cup unsalted butter
1/2 cup granulated sugar
1/2 cup brown sugar

1 egg
1/2 teaspoon vanilla extract

1 1/4 cups all-purpose flour
1/4 teaspoon baking soda
pinch of salt

1 1/2 cups chocolate chips

- Start by preheating your oven to 325 degrees Fahrenheit and getting your dry ingredients ready: whisk together the flour, baking soda, and salt and set it aside.
- In another bowl, beat the butter and both sugars together until mixture is pale and fluffy.
- Add the egg and vanilla extract and mix until combined.
- Add your dry ingredients now and mix everything together until all the flour is incorporated.
- Now you have a delicious cookie dough base! At this point, you can add in whatever mix-ins you please. I went with the traditional chocolate chips (ahem, chunks), but you can really veer off and add whatever you're craving - nuts, candy, coconut, dried fruit, cereal, anything!
- Once you've mixed in everything you want to mix in, scoop little balls of dough out onto your sheet pan- leave about an inch of space between each- they will spread a bit! I usually fit about sixteen on my sheet pan.
- Bake them for 16 minutes, give or take a few depending on how your oven runs and how crispy you like your cookies.
- Let them cool on the pan for a few minutes before transferring them to a cooling rack.



Bake, and enjoy!


A happy baker!