Normally, when it comes to brownies, I have one recipe I use and one recipe only - it's the recipe for the brownies at Tartine Bakery in San Francisco that they have so conveniently provided in their amazing
cookbook
. That recipe yields brownies that are so incredibly fudgey, chocolatey and rich and just all around amazing - I've never known anyone to turn one down. Thank you, Tartine Bakery, for your use of science and your generosity; your brownies make my taste buds happy.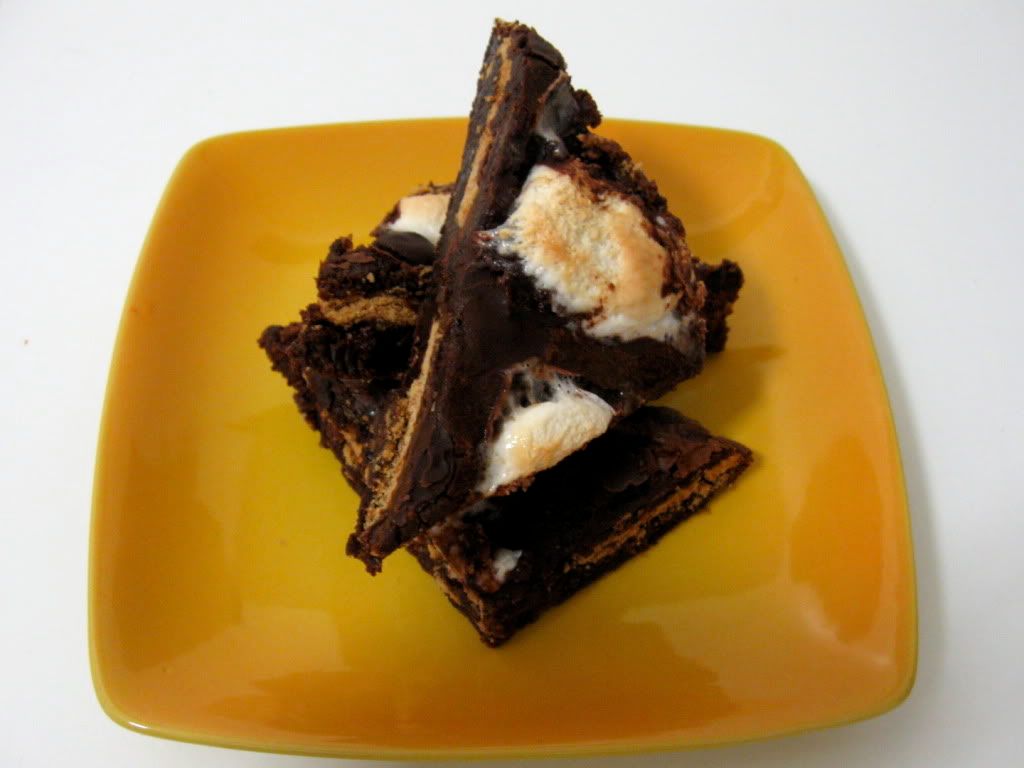 Now, I wouldn't consider myself a brownie purist (come on, I like a little somethin' besides chocolate in there on occasion) but the Tartine brownie is definitely a brownie for purists. It's so incredibly delicious all on it's own, it would almost be blasphemous to tamper with it. Which is why, when I felt a craving for s'mores brownies come on, I decided to turn to another recipe.
Thank David Lebovitz for this one; it's similar to the Tartine brownie, but with a little less chocolate and a little more sugar so this one was perfect for what I intended to do with it. Make brownie batter as instructed, throw in some graham crackers and hershey's chocolate, top with marshmallows, and what have you got? S'mores Brownies,
Chewbacca approved
.
Chewy Brownies/S'mores Brownies
adapted from David Lebovitz, The Perfect Scoop
1/2 cup unsalted butter, cut into pieces
4 oz semisweet chocolate, cut into small pieces
1 1/4 cups sugar
2 large eggs
1 tsp vanilla extract
1/2 cup flour
1/8 tsp salt
3/4 cup semisweet or bittersweet chocolate chips

for s'mores brownies you'll also need:
a handful of marshmallows, cut in half
three Hershey's bars
four graham crackers



Preheat the oven to 350 degrees F and prepare an 8x8 pan however you prefer; either with foil, or butter, or both.

Melt the butter in a medium saucepan. Add the chocolate pieces and stir constantly with a spatula over very low heat until the chocolate is melted.

Remove from the heat and stir in the sugar, then the eggs one at a time, and the vanilla. Stir in the flour and the salt. Beat the batter vigorously for 30 seconds, until it begins to form a smooth ball. Stir in the chocolate chips.

For brownie purists: Scrape the batter into the prepared pan, smooth the top, and bake for 30 minutes, until the center feels just about set. Remove from the oven and let cool.

For s'mores brownies: Scrape half of the batter into your pan, lay graham crackers down in a single layer on top of the batter, then layer the hershey's bars on top of that, and spread the rest of the batter across the top. Once your batter is spread pretty evenly and covers the layers underneath, sprinkle marshmallows across the top of the batter, and bake for 30 minutes. Remove from the oven and let cool. Once completely cool, I recommend leaving the pan in your refrigerator overnight; believe me, it makes cutting through those brownies so much cleaner.

mmmm, chocolate :)